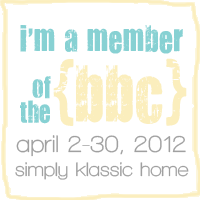 Being a relatively new blogger can be a challenge. I remember when I first started this blog, I was a bit intimidated by all the other blogs out there that looked so polished and professional. I saw all of these linky parties and things that I thought looked neat, but didn't seem targeted to the things I would write about since most of them were for impressive DIY projects that I didn't have on the go at the time. I couldn't imagine ever getting the number of followers that some blogs have (and still can't!). I didn't even really know what I wanted to blog about. It looked like fun, though, so I thought I would give it a try - and that it would be a good way for me to document all of the new recipes and projects I wanted to try.
Fast forward a few months and I've already learned so much about blogging, from which linky parties are right for my blog and my interests, to how to better design my blog, to improving my photography. A lot of what I have learned is due to other bloggers and the helpful tutorials and tips they have shared. It's so interesting that people I've never met before can create such a sense of community.
Kristin at
Simply Klassic Home
had the brilliant idea of starting the "Beginner Bloggers Club" (or BBC) series, aimed at featuring new bloggers and sharing information, provided by herself and other experienced bloggers, that would be of interest and assistance to new bloggers. What a wonderful thing to do! I've learned so much from the series, and have been introduced to several great blogs through it.
Kristin was kind enough to include me as a featured blogger in the series, and I'm so grateful to her for that. It's so lovely to see that kind of help and support in the blogging community. I'm a lucky gal! If you've found your way here from Kristin's blog, then thank you for visiting. If you stumbled upon my little ol' blog some other way and haven't checked out the BBC yet, please do!
What have you learned since starting your blog? Who has helped or inspired you in your blogging journey?